Attract & convert the right leads with advanced strategies
With a range of advanced marketing strategies tailored to different types of businesses, we'll educate you on what strategies can drive results for your specific needs. Whether you're a B2B or B2C business targeting local, national, or international clients, we have the expertise to help you succeed. Our inbound marketing, email campaigns, and other techniques will help you reach the right audience and turn website visitors into paying customers.
Harness the power of direct communication with your target audience through personalised and scalable email marketing. Generate sales, nurture leads, and enhance your content marketing efforts with our intuitive and automated solutions. Benefit from its trackability and unlimited personalisation capabilities to drive conversions, boost ROI, and support other marketing initiatives.
Identify potential customers, gather their contact details, and create a solid lead base for effective communication and conversion. Define your target audience, create buyer personas, and implement pinpoint targeting strategies for improved conversion rates and higher ROI. Receive detailed campaign reports and engage in A/B testing to continuously optimize and enhance your prospecting efforts.
Find and connect with new prospects and decision-makers on LinkedIn through personalised outreach. Build relationships, qualify leads, and conduct email outreach to strategically convert them into paying customers or partners. Reach niche audiences with targeted and engaging content, leveraging the power of LinkedIn's professional network.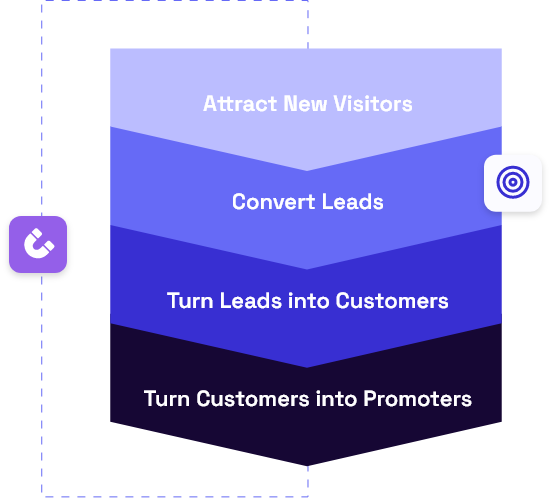 Create valuable and relevant content that resonates with your target audience, fostering long-term customer relationships. Engage potential buyers at different stages of the buying cycle with high-quality content, driving awareness, consideration, decision-making, and customer delight. Provide solutions that address your audience's needs and establish your brand as a trusted resource.
Adopt a focused B2B marketing approach that targets and converts best-fit accounts into customers. Engage decision-makers through personalised outreach across channels, combining marketing and one-to-one sales efforts. Build strong relationships with target accounts, drive momentum on your revenue flywheel, and turn prospects into qualified leads and paying customers.
Companies that implement marketing automation experience an average increase in sales productivity by 14.5% and a reduction in marketing overhead costs by 12.2%.
Investing in marketing automation can yield tangible benefits for businesses seeking to scale their marketing operations and achieve sustainable growth.
Human-made & completely free.
Our team will prepare a detailed report tailored to your business and educate you on what stage of the roadmap you're at. We'll analyze your current digital marketing efforts, dive into the technicalities, and run a thorough audit to identify areas of improvement.
"Prior to updating our website it was very difficult to find our business on Google. This is where The Roadmap have really helped us. We still get great feedback from our customers on how the website looks and works."
"John, Rory and the team from The Roadmap have been fantastic in helping me to redesign my website. They are so professional and organised. Even better, they have made it very stress free and simple for me. "
"The team at The Roadmap have created our first practice website and the whole process was flawless from creativity to guidance, the journey with you has been insightful and stress-free. "
"This was my first time working with a developer and the whole team have been incredibly patient with me, helping me to clarify my project's vision and messaging and bearing with me patiently on numerous occasions when I asked for additional changes. The result? A website that I genuinely LOVE and have had loads of great feedback on from all corners. "
"I am really happy with my website and the marketing they have done for my company Education for Sustainability and I am looking forward to our continued partnership."
"All have been extremely helpful with drafting up new ideas, blogs, e-commerce strategies and many other behind the scenes material that comes with building a grade A website."
"The Roadmap team built our website candycoireland.ie recently and I was really impressed by the whole process. They gave us a very detailed quote, took the time to answer any questions and couldn't have been any more helpful."
"They had designed and created our website on the estimated time and we were so happy with the final result. It truly represents who we are and and reflects the quality of service we provide our clients."